Assorted Pens
THASC offers FREE shipping on every order. Minimum order $35.
THASC sells twist ball point pens and gem stone pens. All our pens come with the option of being custom imprinted with your business message or company logo. Each advertising pen is made in the USA. We sell our pens in bulk so you can purchase THASC advertising pens at wholesale discounts.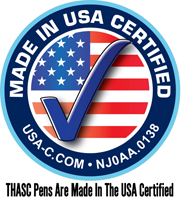 Your are viewing page 1 of 1 for Assorted Pens
4 match(es) found




Your #1 source for greeting cards, ballpoint pens, magnets, magnetic address books, highlighters, and pocket planners. Calendars all assembled, packaged, and wrapped by the handicapped and senior citizens.