THASC Sales Company, Inc.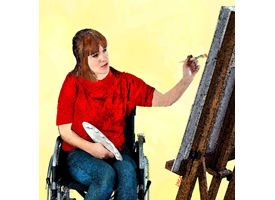 "Love To Paint" by
Joyce Nielsen
THASC Sales Company Inc. employs a unique group of disabled artists. Many of these artists paint with a brush held in their mouth. Some use specially designed helmets with brushes attached to paint and others may use arm braces. No matter what method these talented artists use to create their art, all of their artwork is amazing! THASC Sales Company, Inc. purchases the artwork of these artists and reproduces it onto beautiful greeting cards. On the back of each greeting card is a picture of the artist with a short biography. These greeting cards are truly inspirational!

THASC Sales Company, Inc. - promotional products, all occasion cards, business thank you cards, blank note cards, seasons greeting cards, business thank you seasons greeting cards, twist ball-point pens are available for sale online. We also sell business card size magnets, and wallet sized magnetic address books. We accept VISA, Master Card, American Express, and Discover Card. (click here to order now).
2016 Pocket Planners2016 Pocket Planners




THASC 2016 monthly pocket planners are now available. The front cover of each THASC pocket planner is a reproduction of original artwork by a handicapped artist.

Password KeepersPassword Keepers




THASC Password Keepers are a great way to store your Internet and program passwords. You need that perfect companion to help you keep track of those passwords and THASC Password Keepers do that for you.
THASC sells greeting cards and promotional products. View all our products.
THASC creates employment for The Handicapped And Senior Citizens. Read more about us.

Buy Online Now!
Artists Wanted!
If you are a handicapped or disabled artist interested in selling your artwork, please
contact us
.